The leaves are changing, pumpkin pies are baking, and the crisp, cool weather is reminding us that winter is on its way.
In Tinker Bell And The Lost Treasure, we join the fairies in Pixie Hollow as they fulfill their Autumn duties.
Tinker Bell is honored with the task of creating the Pixie Hollow Fall Scepter. When the Blue Moon rises, and its light passes through the magical Fall Scepter, Pixie Hollow's supply of pixie dust will be restored.
Unfortunately, Tinker Bell accidentally puts all of Pixie Hollow in jeopardy; so she decides to venture out across the sea on a secret quest to make things right.
Along the way, Tinker Bell meets new friends, including an adorable and courageous lightning bug, Blaze. My daughter and I loved Blaze. I am sure you will too. You can meet Blaze in the short clip below.
Arriving on October 27th, Tinker Bell And The Lost Treasure is a perfect fall release. It also makes a great gift for the holidays.
Tinker Bell And The Lost Treasure will be released on both DVD, $29.99 and Blu-ray Combo Pack, $39.99. The Blu-ray Combo pack includes a DVD copy as well.
Both the Blu-ray and DVD have magical bonus features including animated "scenes you never saw," a guide to Pixie Hollow, and much more, offering viewers an extraordinary trip deep inside the enchanted world of Pixie Hollow.

Bonus Materials

Scenes You Never Saw – These fairy funny alternate scenes did not make it into the movie.
Magical Guide to Pixie Hollow – Tinker Bell and Terence are your guides as you explore the autumn area of Pixie Hollow.
Deleted Scenes with Filmmaker Introductions – Play deleted scenes with optional intros by Director Klay Hall and Producer Sean Lurie.
Pixie Hollow Comes To Florida – Discover how the filmmakers helped transform Epcot into Pixie Hollow.
We have one Tinker Bell And The Lost Treasure Blu-ray combo pack plus a set of fairy wings to give away to one lucky reader. To enter, please leave a comment below.
As always, don't forget to earn more entries for our giveaway: subscribe to our Feed, sign up for our 5M4M Newsletter, add our 5M4Giveaways button in your sidebar, write a post and link back to this contest on your blog, and spread the word via Facebook, Twitter, or email! Please see our site's Terms and Conditions of Use for a complete list of our contest and giveaway rules.
This giveaway is open to both US and Canadian shipping addresses and will close on Friday, October 30th. Our winner will be announced on Saturday, October 31st.
And for some Tinker Bell fun for everyone, please enjoy the following Tinker Bell And The Lost Treasure activity sheets. Just click on them to view them in a larger size. Enjoy!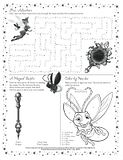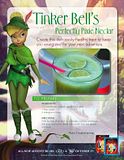 *For this giveaway, I received a Blu-ray Combo pack of Tinker Bell And The Lost Treasure to review.
Written by 5 Minutes for Mom contributing editor Erica.